FCF is invariably creative and often ingenious
Prof. Thomas Y. Levin
Princeton University

Bennett is an authority on premium travel ticketing strategies

I trust Bennett
Bud Collins
International Tennis Hall of Fame

For people who fly up front

I can't say enough about Matthew
Paul Haggis
Two-Time Academy Award Winner, Best Pictures

Upgrade secrets and strategies… fly in business class for the price of coach

A crucial resource… packed with insider tips

Matthew is outstanding at what he does
Ari Fleischer
Former White House
Press Secretary;
Fleischer Sports CEO

An exclusive website… finds reduced fares and free upgrades
Four Seasons Resorts Magazine

Bennett is top-of-mind when thinking about upgrading
Tod Cohen
General Counsel and Vice President at StubHub

The best resource I know for 'tricks' is Matthew Bennett's First Class Flyer

I jumped on Bennett's Biz Class alert to Europe starting at $1,450 r/t
Lawrence Pass, MD
Heart Surgeon Nashville, TN

The insider site

Bennett's FCF is not only the most informative newsletter of its kind, but it's a genuinely fun and interesting read.
Prof. Michael Beckerman
New York University

Mr. Upgrade shares his secrets for flying first class at economy fares

Loaded with tips on flying in comfort without paying the exorbitant fares

Specializes in finding cheaper luxury flights for executives

First Class Flyer is a must-read
"Matthew Bennett is in a league of his own."
- Mike Sweeney
5-Time All-Star, Kansas City Royals
When the Red Sox beat the Dodgers 7-4 in 2008 at the LA Coliseum they did so in front of the baseball's biggest-ever crowd:
115,300 fans.
I mention this for a couple of reasons, kind of related:
1. I used to be a minor league pitcher.
2. I now publish reports and alerts with, it recently occurred to me, a lot more readers than all those fans.
How did a minor league pitcher end up with more than a Coliseum-sized collection of followers?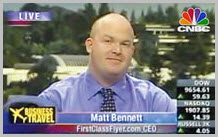 To best answer why so many subscribers, I need to go right back to my baseball days, back to the early nineties, to a Kansas City Royals farm team.
Traveling back and forth every year to Spring Training on one-way tickets (two of which cost much more than one round-trip), I got interested in airfares—more specifically, getting better ones. My wages were a barren $850 a month, 6 months out of the year, so saving $300 on an airplane ticket, twice a year, was to me an earnings upgrade.
(In case you're wondering, the Royals gave us a check equivalent to full-fare coach money, over $600 each way at the time if memory serves—and let us keep the change.)
I got hooked on the challenge of getting a really good deal. I'd save 25% often, sometimes even as much as 50%. Don't ask me why, maybe I was born with the upgrade gene, but this happened so much the teammates started asking me to get them deals too.
I'd routinely get massive savings – and everyone was thrilled with the "change" the Royals allowed us to keep. With our minor league paycheck, the money we made on flying around amounted to as much as 20% of our annual salary.
You could almost say booking flights was a great side-business to playing ball. What started out as a hobby has now become a career. I'm fascinated by the workings of the airline industry the way a lock picker's fascinated with locks.
Or, more to the point, picking them.
It's one weird métier, but it sure suits me.
Naturally, the more adept you get at airfares, the more you gradually start climbing the ladder of better travel experiences all 'round.
Over the years I've had the privilege of sharing my upgrade and ticketing strategies with Major League All-Stars, Hall of Famers, Academy Award Winners, Grammy Winners, Fortune 500 CEOs, and tens of thousands of ambitious air travelers just like you.
Why endure air travel when you can enjoy air travel?
That's a fair airfare aphorism.
See you up front,