The Golden Key to Unlocking Lucrative Miles & Points Opportunities: FCF's Sweet Redeems 2022, Part I
It's time to eliminate the challenge of finding deeply discounted mileage awards.
What better way than to kick off a new year with a travel hack-tastic play: leveraging the (usually) untapped power of your miles and points? Talk about a New Year's Resolution that will actually stick, FCF's "Sweet Redeems" makes the hard work of finding premium travel easy.
Why Most Travelers Hate Miles & Points
Everyone has trouble finding flights with discount mileage availability – especially those who don't book their flights first when planning a trip. Airlines (especially nowadays) allocate very few Business and First Class seats for purchase with miles. Recent FCF reports show that your odds on American and United are less than 3%. On Delta, it's much worse.
So it's important to lock-in your flights BEFORE you book your cruise, hotel, villa, or tour. Otherwise, you can forget about using your miles for deeply discounted premium flights, which will cause you to resent the airlines for it.
So What Are FCF's Sweet Redeems?
You can think of FCF's Sweet Redeems as "treasure maps" that show you where discount Business and First Class award seats are—i.e., the airlines, the routes, and the months with availability for using your hard-earned miles at low mileage rates.
Otherwise, you can spend hours and hours searching for cheap mileage award seats and still come up dry.
Whereas with Sweet Redeems, you spend minutes going straight to the airlines and routes with low-cost mileage award availability. We've designed our Sweet Redeems to save you time and angst in the booking process. No more being angry with the airlines.
But that's just the beginning of the power of Sweet Redeems.
How to Use FCF's Sweet Redeems
On our home page, click on the Sweet Redeems link – the dreamiest miles redemption site on the Internet. It looks like this: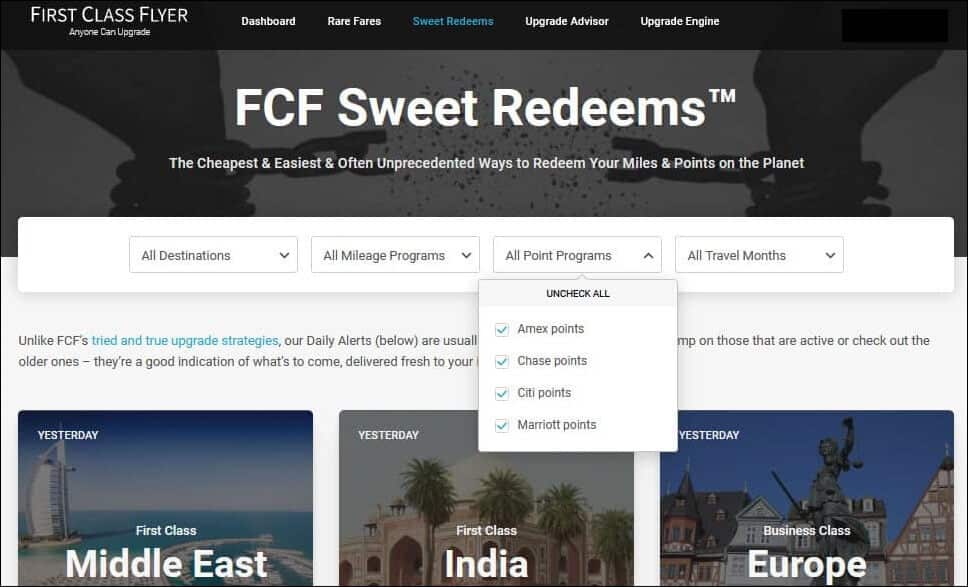 This is the home of FCF's Sweet Redeems. Up at the top you'll see four filter options:
Destinations
Mileage Programs
Point Programs
Travel Months
Each has a dropdown menu allowing you to quickly filter by your preferences.
You can check or uncheck all options, or select individually
Underneath the filters are the deals available at any given time. This is what we call the:
Live Deals Section
Here you can quickly get a handle on the available deals and see the most important details at a glance, such as:
When the deal was posted to see what's freshly baked
Class of service
Region — to check your desired destination or to spark new ideas
Loyalty programs involved — to see if the deal works for you
Travel months — to decide if the deal syncs with your plans or if you should be flexible to make it work
Mileage savings between the everyday cost and the lowest partner cost
Click anywhere on the deal or on Deal Details to find lots more information, starting with:
 Easy-to-Use Deal Availability Calendar
This is where you start to experience being in the driver's seat like nowhere else. Imagine a team of researchers that is constantly checking for mileage availability on cheap premium seats, with dozens of airlines, on hundreds of routes, over thousands of dates, and producing treasure maps like this…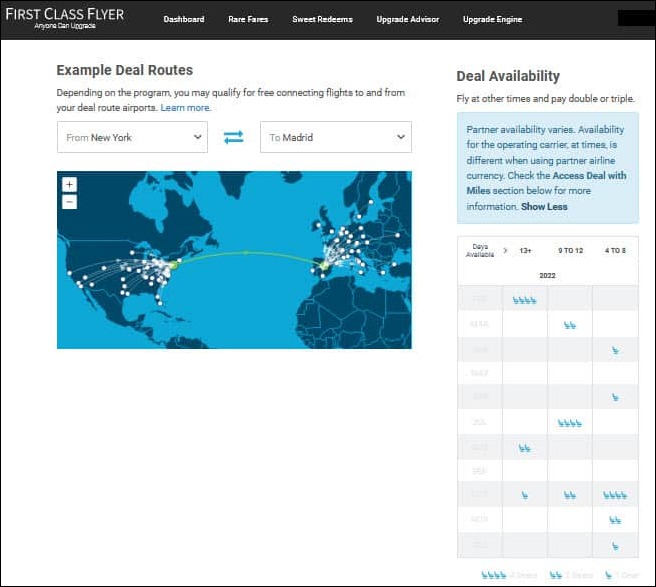 Otherwise hard-to-find and often on a flash basis, mileage deals are visible at a glance with FCF's Sweet Redeems. You'll get a good sense of availability by month — for one, two, and four seats  — so you can immediately see if it lines up with your plans and the number of your travel companions.
Or, if the deal is so good (and they often are), you can always find a way to tweak your travel dates to make the opportunity work for you so you can fly on your miles and save your cash.
How to Find the Deal Routes
Based on the routes involved in the deal. You can:
Select a departure city from the drop-down menu (if there is more than one route involved in the deal)
The availability calendar shows:

How many possible days award seats are available for 13+ days, 9-12 days, or 4-8 days
Which months award seats are available
The number of possible travelers, including one, two, or four

Click the double-arrow between the departure and arrival destinations to see if there are award seats available in the opposite direction, in which months, and how many
Understand How Free and Low-cost Connections Work
Based on the selected departure city, the map quickly shows examples of possible connecting cities within the U.S., and those beyond the deal's arrival city based on the airline alliance relevant to the deal. Very handy.
REMEMBER: You want to find the long-haul segment first. Then, work backwards from there. Use the link above to get a sense of the free connecting flights you can add on.
Works with Major and Premium Carriers
This includes All Nippon, American, British Airways, Cathay Pacific, Delta, Emirates, Etihad, Japan Air, Lufthansa, Qatar, Singapore, United, Virgin Atlantic, to name a few.
Flash Deal Summary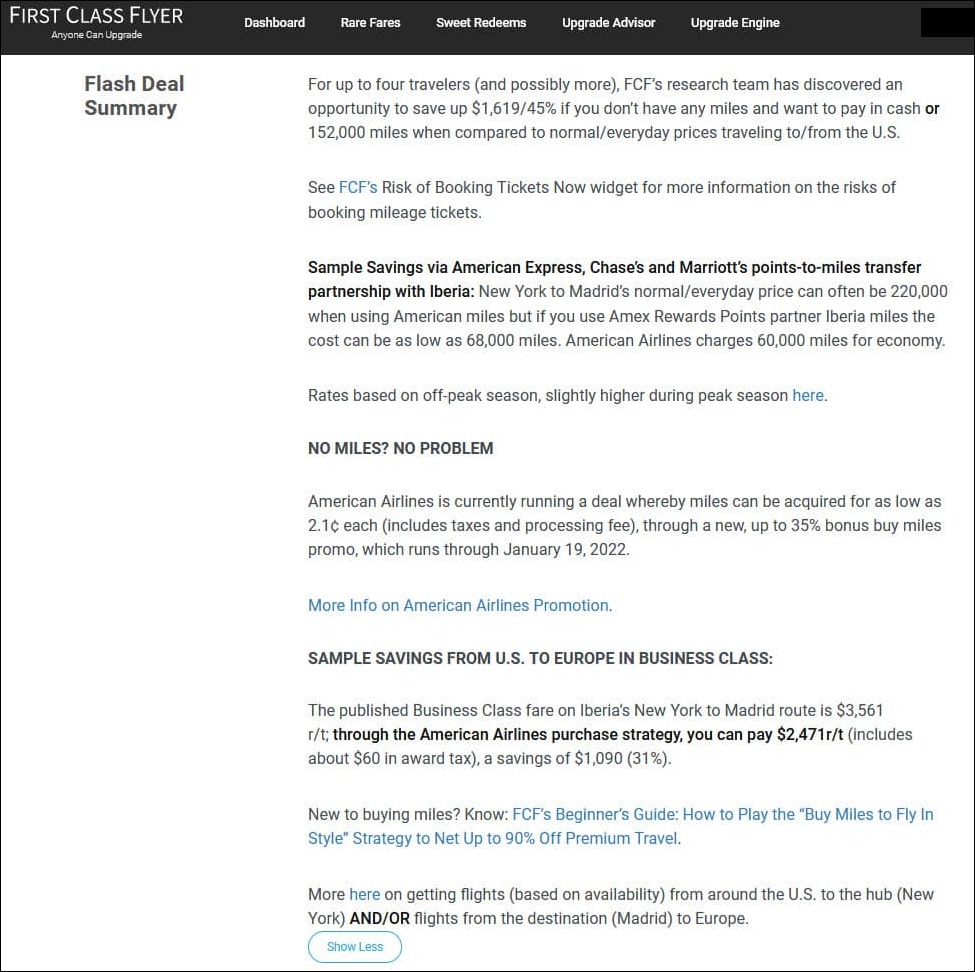 As you'd expect, our Deal Summary is an overview of the deal in a nutshell. Click Show More to go deeper, where you'll find information about using miles and points.
Miles & Points Savings Wizard
Researching (on your own) which mileage currency to use is a pain in the patootie, so we injected all that into FCF's Sweet Redeems, making it ridiculously easy. In the twitch of a squirrel's nose, you'll see which of your miles or credit card transferable points, and/or which partners work best for your particular situation.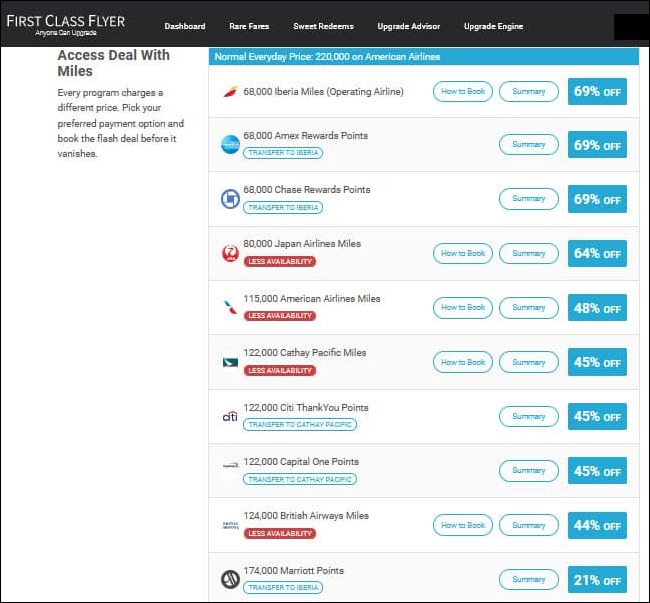 The loyalty miles and points Savings Wizard is organized with the highest savings at the top, so you'll quickly see which points or mileage program is offering the best deal. Here you'll find:
The normal everyday price you'd pay without the deal (good bragging intel).
The operating carrier details.
The points transfer partner with the lowest cost, including Amex, Capital One, Chase, Citi, and Marriott.
The lowest cost mileage transfer partner.
Partner details, including a summary of which partners typically offer award space so you'll know when partner availability is easier to attain or a better cost option than the operating carrier — saving you unwanted clicking time. Partner availability is described as:

Same, meaning the partner typically offers the same award seat availability as the operating carrier, or
More, meaning the partner typically offers more award seat availability than the operating carrier, or
Less, meaning the partner typically offers less award seat availability than the operating carrier.

How much money you will save in %.
How to Book
Did you know this could all be at your fingertips? Could you imagine saving so much research time and piles of miles on your next trip?
The How to Book instructions, with estimated times for how long it takes to get the booking done, makes it all so easy for you (the time required is usually short, by the way).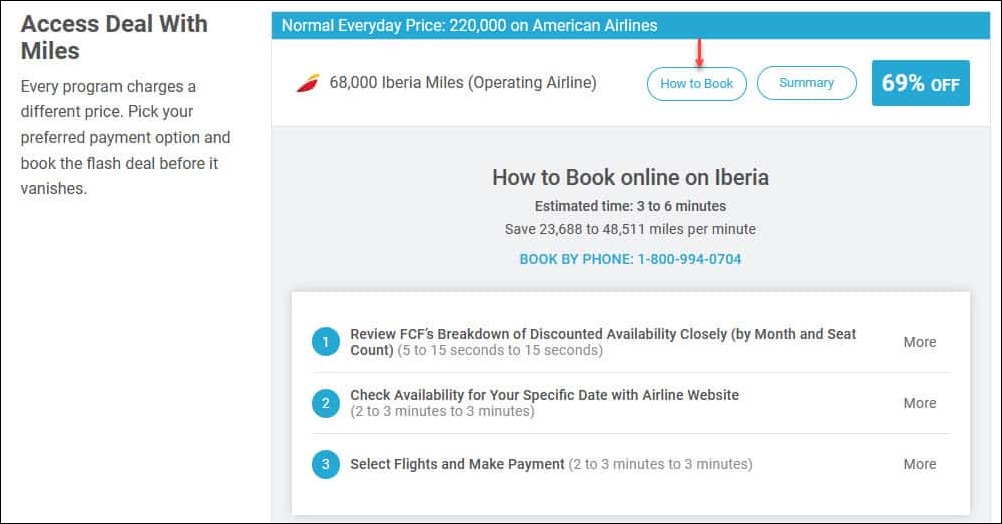 There you have it. Your power-packed guide for finding and booking the cheapest First and Business Class miles and points dream trips in 2022.
With ease.
Through FCF's Sweet Redeems.
An app like no other.
See you up front.
Save Up to 90% On Business & First Class Flights With Flash Deal Alerts & The Exclusive Upgrade Academy
Score like never before with Covid's unprecedented
Premium Airfare and Mileage Opportunities.