Stop "Booking Backwards": Use FCF's Forward-Thinking Deals to Book Dream Trips Every Time
Flip the script and ramp up your upgrade-ability.
Ever heard of Douglas "Wrong Way" Corrigan? Although he was a skilled aircraft mechanic (a builder of Charles Lindbergh's famed Spirit of St. Louis plane), his sense of direction was questionable. After flying from California to New York in 1938, he hopped in his plane for the return flight and promptly flew the wrong way — straight to Ireland.
Are You Flying the Wrong Way?
If you're like most people, you typically go through these three steps to book a vacation:
1. The Dreaming Phase: Whether you're inspired by a TV ad, a glossy travel magazine, a movie set in an alluring location, a well-written travel story, or simply by hearing about incredible travel experiences from your friends or family, the dreaming phase is usually what gets the process going.
2. The Planning Stage: You've made your decision to go somewhere using the aforementioned sources and the planning phase begins. This is typically a very time-consuming process for most people. There are tons of details to hammer out: When should we go? Where exactly should we go? What airlines fly there and what are their schedules like? And so on. According to a report by Expedia, most travelers typically visit a whopping 38 websites — yes, 38 — to book their vacation.
3. The Booking Step: Now that you've chosen your destination, set your travel dates, and booked your hotel, you finally start thinking about flights.
But here's the thing: If you're value-conscious at all, you're going about it the wrong way. 
The Right Way to Fly
Listen, it's time to ditch that old-school way of thinking that leaves the airline booking for last. As you've likely seen from your previous trips, it's typically the least fun part of the trip planning process. Trust me, if you stop doing it like everyone else, your entire booking experience will improve — and you'll save money, too.
Here's the problem with conventional wisdom: You've spent weeks planning a specific trip around specific dates, but you haven't once considered your options for premium air travel — which could end up having the biggest impact on your budget.
By the time you're ready to book the airline ticket, you won't be able to find any deals because you've already boxed yourself in by the dates of your hotel, tour, or cruise.
Yes, this mindset is a fundamental shift away from what you're probably used to doing. And you're not alone. But once you come around to it, your travel life (and your wallet) will improve immeasurably. So…
IF YOU HAVE A FINITE BUDGET…
Most people don't have an unlimited travel budget, so when you're able to save thousands of dollars on premium airline tickets it allows you to:
Take longer vacations
Explore more side trips and adventures
Treat yourself to more and/or upgraded tours, better accommodations and/or suites, and finer dining experiences
Let FCF find the best flight deals for you, then plan the rest of your trip around those opportunities. All you have to do is keep a broad wish list of destinations on hand, so when crazy-amazing premium opportunities surface – as they always do – you're ready to pounce.
How to Unbox Yourself
Rather than fixating on one place to go next, consider keeping a few different continents and regions (or a few different places within a given region) on your wishlist. Then choose the one that offers the best travel opportunity during your time frame. I have a gazillion places on my bucket list. I just pick 'em off as the opportunities arise more or less – and they always do. The last thing I do is pick a spot and pay through the nose for it.
Consider other cities/destinations: Have New Zealand on your list? If you don't see a deal to Auckland in the FCF newsroom, but there's a First Class seat for less than the price of Business Class to Sydney, why not check out Sydney for a day (or three) on your way? Then you can tack on Auckland to the trip since you'll already be in that part of the world. You may never be Down Under again, so it's the perfect time to take advantage of the opportunity. That's what we call an Opportunity Traveler.
I once was on my way to Sydney, but there were only flights available to Melbourne, so I checked out what was going on there the day I was en route. Lo and behold, the Australian Open was happening and I got to see Serena Williams crush it in the semifinals (an unforgettable experience), all because I didn't have my travel blinders on.
When you open yourself up to multiple continents, regions, or cities, dream trips and side trips will start banging on your door.
Staying flexible allows you to pounce on truly great opportunities when they come up. You'll start seeing them everywhere.
Examples of Exotic High-End Deals
You Can Book Right Now
That Offer Strong Value
When Exotic First Class Seats Matter…
Emirates has one of the world's best First Class seats and a vast route network beyond Dubai. Now they're resuming their majestic A380 service; see FCF Sweet Redeem alerts here and here. But flying Emirates doesn't just mean going to Dubai. The airline also flies New York-Milan using the A380 (see all Emirates A380 routes here). They also have a Newark-Athens service, which uses a B777.
Doesn't this offer an unforgettable flight experience that will kick off your trip in the right direction, big time? Looks like it to me. All accomplished by thinking about your flights first, as you'll seldom find great deals on the exact dates you need to pair with your locked-in itinerary.
When Elite Status Matters…
If you're a United loyalist and elite status is important to you and you want to go to Asia and you don't want to pay $5,000+ for Business Class and you refuse to fly coach, an option that ticks all those boxes is using a mileage upgrade to "up" your cabin. We recently scoured 45 United routes to Europe and found six routes with ultra-slim availability for upgrades and 23 United routes to Asia and found two routes with ultra-slim availability for upgrades to Business Class that you can easily tack onto a flight beyond the long haul for free much of the time. More on that here.
Is this the difference between a miserable long-haul trip and a nice one for elite-focused travelers not willing to spring for a Business Class fare? Looks like it to me. All by thinking about flights first because your odds of finding United upgrades are extremely low otherwise.
When Dollars Out of Pocket Matter…
The New York-Stockholm nonstop flight for travel Friday, June 3, through Sunday, June 12, costs $3,465 on United. Compare that with traveling a month later, Friday, July 15, through Sunday, July 24, for a cost of $7,180. What a difference a month makes. In other words, don't lock in your resort or cruise for July without checking your flight options.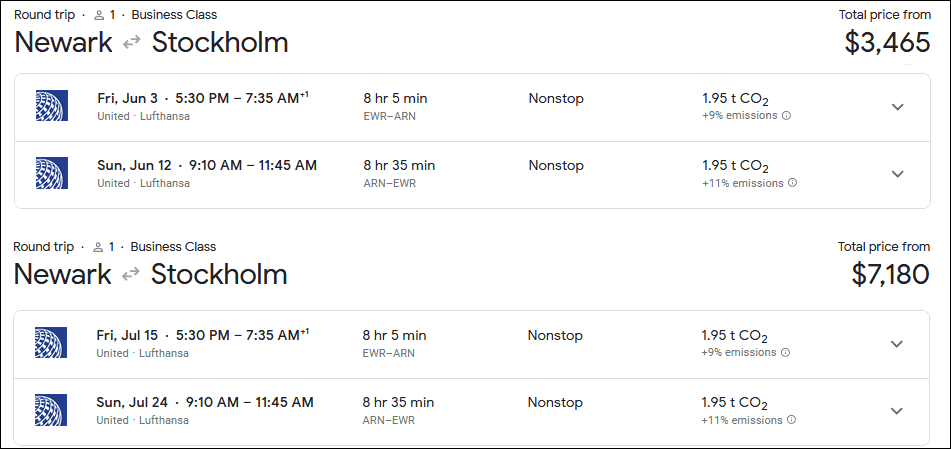 When Getting the Most Bang for Your Points Matters
What's more, using the wrong mileage "currency" can also cost you big time. For example, booking a flight using Delta Miles costs 320,000 one way, while using Virgin miles on the same flight and day is only 50,000 one way. That's a crazy-big difference. You can brag about that to the passenger sitting next to you and you might start a fight (or send a new FCF subscriber our way).
Is that a six-for-one? Looks like it to me. All by thinking about flights first.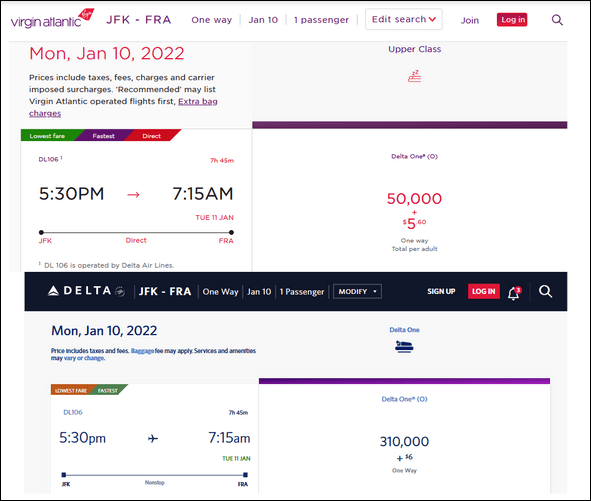 Another one… Fly in First Class on All Nippon using 150,000 All Nippon Miles versus United's everyday Business Class mileage cost of 350,000. You will literally be miles ahead of your peers.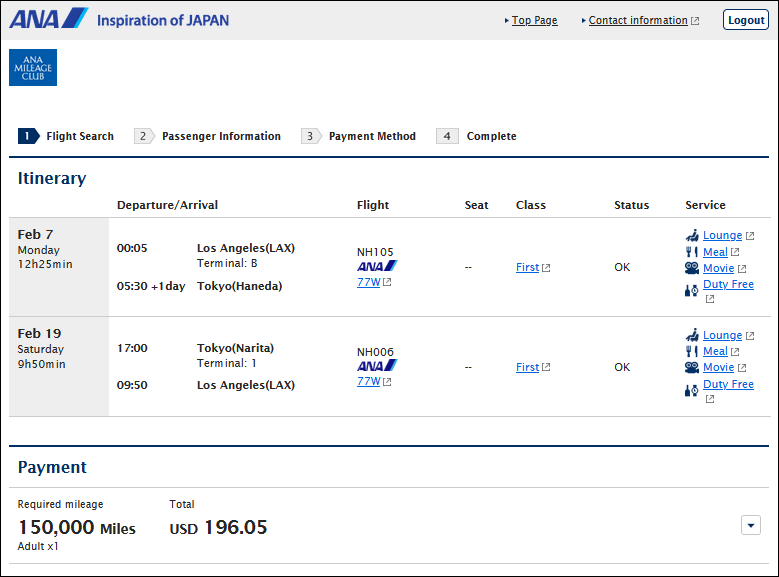 Time to Lock in the Deal
Just    grab    the    deal   now.
You don't have to figure it all out right away. If you do need to change later, that change fee — if any — is peanuts compared to the huge savings you've already scored.
The point is that deals disappear quickly, so you need to be prepared to jump on 'em before they're gone.
The key is to book the most important part of your trip — the flight — whenever that amazing deal surfaces to a place on the top of your bucket list.
A Mention of Redemption
If you haven't already, check out our "Sweet Redeems" alert page. It's packed with routes and airlines with low-cost Business and First Class mileage award availability. Forget Disneyland, THIS is the happiest place on earth.
Related Strategies to Keep In Mind
Know when to pay with cash or miles. You can find more on that here.
Know how to freeze and hold fares (because snap-frozen fish tastes just as good when cooked).
Check for refundable fares for the same cost or slightly more. More on that here.
Be aware of "travel fee waivers" that many airlines are currently offering, including for award flights. That means it won't cost you anything to cancel or change your ticket. Read more about it here.
Check the weather: Just type the city and weather by month into Google to find out what to expect. For example, the Rome monthly weather forecast provides month-by-month average temperatures.
Scout out local events, which can enrich your travel experience further. For example, if you see an amazing FCF deal to Melbourne, but you really want to go to New Zealand, why not hit the Melbourne Cup horse race on the way? (It's known locally as "the race that stops a nation.") Then you can add on a flight to Auckland and enjoy two destinations instead of one. Major events are one of my favorite ways to experience other cultures.
Save Up to 90% On Business & First Class Flights With Flash Deal Alerts & The Exclusive Upgrade Academy
Score like never before with Covid's unprecedented
Premium Airfare and Mileage Opportunities.